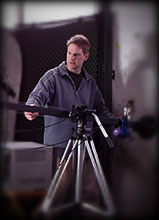 Russell Roush (Producer/Editor) has produced some of the most memorable media in the South Puget Sound over the last twenty years. A veteran of AT&T Media Services' renowned production department, his commercial and long-form video work has fostered successful collaborations with hundreds of businesses and agencies throughout Western Washington. He excels in developing creative concepts into compelling, finished scripts. He matches his skills with cameras and post-production equipment with an innovative, personal perspective to commercial and corporate video production.
It takes something extra to make your idea or business stand out from the crowd. Video presents the perfect way to take your story directly to your audience and capture their interest.
Roush Digital Productions offers a complete end-to-end video solution. We handle every aspect of production, from scripting and videography, to voiceover casting and music rights management.
Whether you need a simple 30 second ad for TV, or a full web or multimedia program, Roush Digital Productions will deliver the creativity and attention to detail your project deserves.